Drums & Percussion
Whether you're ready to get started with lessons or just want more information, send us a text message using the chat in the bottom-right corner of the site. We'll get you in touch with the right teacher!
---
Jeff Young, Drum Set/Mallet Percussion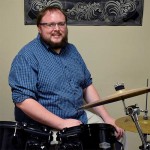 Whatever your drumming needs are, Jeff Young can help you! Jeff has a very wide range of expertise on anything from drum set to concert or world percussion. Jeff holds a Bachelor's degree in Music Education from Eastern Illinois University and a Masters degree in Music Performance from Illinois State University. He has also served on the faculty at Heartland Community College since 2007. Jeff's teaching experience includes private lessons, traditional classroom teaching, and marching drum line instruction. Jeff also serves regularly as a judge at IMEA-sponsored events for grades 5-12.
Jeff began his drumming life with a practice pad and a set of bells from The Music Shoppe. He also took private lessons at The Music Shoppe in junior high and high school. Currently a member of The Music Shoppe sales staff (since 2006), Jeff helps today's beginners get started in their musical lives. Jeff plays drum set for two local bands: Marc Boon & the Unknown Legends, and Jack Dupp & the Empty Bottles. Jeff also performs on guitar, piano, and lead vocals in the band Blackwater FOE. Whether it be a rock band or an orchestra, Jeff is comfortable performing in any musical situation: however, Jeff's dream job is to play in a pit orchestra for a Broadway musical.
---
Derek Spring, Drum Set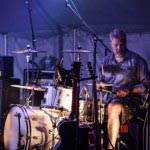 Derek is a professional working drummer living in Bloomington, IL. He majored in Music Composition at Columbia College in Chicago, IL, and has over 30 years of teaching, performance and recording experience. Lesson plans are personalized so that the students will achieve their goals in a productive and encouraging environment. Drum lessons are available from beginner to advanced.
Derek is currently performing with Green Shoe Studio country music recording artist Aileeah Colgan, as well as the Happy Farm Records rockabilly band The Hillbilly Jones. Derek is also a performing member of the New Hope Church Methodist Worship Band, along with fill in work for local rock/pop cover band Heroso.