Woodwinds
Woodwind Teachers
Whether you're ready to get started with lessons or just want more information, send us a text message using the chat in the bottom-right corner of the site. We'll get you in touch with the right teacher!
---
Rachel Bailey, Flute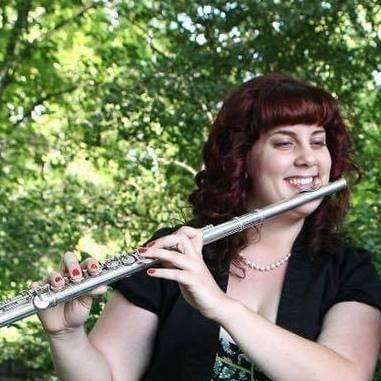 Rachel Bailey began lessons early in life with Sue Gillio in the LaSalle-Peru area of Illinois. She then went on to Study with Patricia George at Brigham Young University-Idaho where she received her Bachelor's of Arts in Music Performance. She also earned her Master's of Music Degree in flute performance and studied with Dr. Adah Toland-Jones at Texas State University. Ms. Bailey was a winner in the Concerto Competition at Texas State in 2008 and soloed with the orchestra on the Liebermann Flute Concerto in 2009. She was also a student at Trevor Wye's flute studio in Ashford, Kent UK, where she completed her certificate in 2011. She currently plays with the Irish music group, Paddy's Favorite Sons and is working on starting another local band as well as freelancing.
Rachel offers lessons in: flute, piccolo, alto, and bass flutes; fife and recorder; harmonica; theremin. World flutes include: Native American flute, Irish flute & tin whistle, Chinese dizi, Indian bansuri, Peruvian quena, Pan pipes, and Ocarina.
Rachel's Facebook
Rachel's Linktree
---
Sally Hoffmann, Flute

Sally Hoffmann is a private flute teacher of students in Bloomington Normal and the Central Illinois area. She is from Pontiac, IL and has a Bachelor of Music Education, Illinois State University, 1978. She studied with Max Schoenfeld and has 30+ years of teaching experience. She has extensive performance experience in bands, orchestras and chamber music. She also has music-directed and conducted in numerous theatres througout the region. She is also a composer and arranger.
Flute teaching is specialized in beginner, intermediate and advanced intermediate levels. Instruction places emphasis on music reading, flute performance, and music theory. Sally works with students of all ages including adults.
The lesson plans are tailored to meet individual levels of talent and desire. Recitals are held frequently. Flutists are prepared for auditions and competitions such IMEA and band/chair placements. Extensive preparation for solo and ensemble contest – Sally accompanies her own students on piano as needed.
Sally's personal website can be found here: http://musicwithsally.com/
---
Alex Hunter, Flute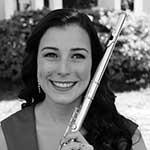 Alex Hunter is the Flute Teaching Assistant at Illinois State University, where she studies with Dr. Kimberly Risinger. She is currently earning her Master's degree in Flute Performance. Originally from Atlanta, Georgia, Alex began studying piano at the age of seven and flute at the age of ten. She went on to attend the Schwob School of Music at Columbus State University, where she studied with Dr. Andrée Martin and received her Bachelor of Flute Performance degree.
Alex has received numerous awards including Third Place in the Mid-South Flute Society Young Artist Competition, two Honorable Mentions in the Georgia Music Teachers National Association Young Artist Solo Competition, Third Place in the Georgia Philharmonic Concerto Competition, and was selected as a performer for the Florida Flute Association Masterclass Competition. In 2016, she performed the Ibert Flute Concerto as a winner of the ISU Band Concerto Competition. Most recently, she won the ISU Orchestra Concerto/Aria Competition and performed the Nielsen Flute Concerto.
As an active teacher, Alex teaches students of all ages. She structures her lessons based on the basic fundamentals of flute playing, including breathing, tone development, technique, posture, musicality, etc., and on the individual needs of the students. Alex taught private lessons at the Columbus School of Music and Dance in Columbus, Georgia, as well as privately out of her home. She was also a music theory tutor and a student ambassador for school recruitment events at Columbus State University. Alex has been a judge for the Illinois Elementary School Association Solo and Ensemble. Following completing her Master's degree, Alex plans to pursue a Doctorate in Flute Performance and become a university professor, while regularly performing in regional ensembles.
---
Jennifer McNamara, Oboe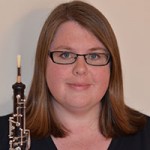 Jennifer McNamara holds a Bachelor's in Oboe Performance degree from Illinois State University, where she studied oboe with Judith Dicker. She also studied college level flute while attending ISU. During her time at ISU, Jennifer performed as principal oboist in ISU's top ensembles, and received a full tuition scholarship. She has extensive experience playing in band, orchestra, and chamber groups.
Jennifer has 15+ years of teaching experience. She loves teaching students of a wide variety of ages and skill levels. Jennifer tailors her lessons to meet her students needs and interests. She helps prepare her students for auditions such as IMEA, solo ensemble competition, and band chair placement. Jennifer believes in creating a positive learning environment and is very encouraging to her students.
---
Bill Toovey, Clarinet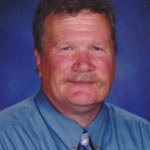 Bill Toovey, clarinet, holds a Bachelor of Music Education degree from Illinois Wesleyan University and a Master of Music Education from Illinois State University. During his 30-plus years in music education, Bill taught instrumental music in both Colorado and Illinois. He continues to be an active performer and conductor with community-based ensembles.
The lesson curriculum emphasizes the essentials of proper performance technique and theory fundamentals. Bill designs lessons for students of all ages and ability/interest levels.
---
Beth Hildenbrand, Clarinet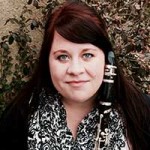 Beth Hildenbrand is an up-and-coming clarinetist and music educator. She holds a master's degree in Music Performance, as well as Bachelor of Music Education and Performance degrees from Illinois State University. Throughout her seven years at ISU, Beth consistently placed among the top in Dr. David Gresham's clarinet studio and performed extensively as the principal clarinetist, as an E-flat clarinetist, and as a bass clarinetist within the university's most prestigious ensembles. Currently, she performs as a first clarinetist within the Prairie Wind Ensemble, a professional group based out of Peoria, IL, and she also performs regularly with ensembles at Illinois Wesleyan University.
Along with her life as a performing musician, Beth is a highly dedicated music educator. She is licensed to teach K-12 music courses in the State of Illinois and was the teaching assistant for the clarinet studio during her master's degree. For the past twelve years, Beth has maintained a dedicated studio of clarinetists and saxophonists. She is an avid clarinet pedagogue, and she regularly teaches clarinet master classes and sectionals at schools and festivals in Central Illinois, and has adjudicated clarinet auditions for music camps, honor bands, and contests. She is a member of the International Clarinet Association, the College Music Society, and the National Association for Music Education.
Beth teaches clarinet and bass clarinet to students of all ages and all levels ranging from beginner through advanced college undergraduate. Lessons focus on proper tone production, building and improving technique through various methods, practice technique, and preparation for auditions. Beth has taught students who have placed highly within their respective schools' music programs, students who were selected to perform in honor bands, and students who pursued collegiate degrees in music.
---
Brett Thole, Saxophone

Brett Thole is a saxophone performer and educator in the Bloomington-Normal area. He holds a Bachelors of Music in Saxophone performance from Illinois State University, and is currently continuing his education there as the saxophone Graduate Assistant. Brett is a student of Dr. Paul Nolen, and prior to attending ISU he studied with Adrianne Honnold. Throughout his time at ISU, Brett has consistently placed in the top ensembles for both Jazz and Concert Bands. He also was selected to participate in the Symphony Orchestra when they performed works involving saxophone. Brett has performed in several recitals and masterclasses with world renowned saxophonists. Being a member of the North American Saxophone Alliance (NASA), he attended and competed in the 2010 conference in Athens, GA. As a member of the Viridian Sax Quartet, he advanced to the regional round of the Music Teachers National Association chamber competition in 2013. He also was a semifinalist with this quartet for the NASA conference at the University of Illinois in 2014. Brett appeared as a soloist with the Illinois State University Wind Symphony after winning the Band Concerto Competition in 2013. In addition to his academic performing, Brett is also a member of the Heartland Jazz Orchestra and is often asked to perform for musicals at Illinois Wesleyan University.
While Brett is an active performer, he is also in high demand as an educator. While at Illinois State University, Brett has taken multiple courses in saxophone pedagogy. He is often asked to give masterclasses in the Bloomington-Normal area, while simultaneously maintaining a private studio. His students consistently place high in their schools' ensembles as well as honor bands and solo and ensemble contests. Brett is a judge for the IHSA Solo and Ensemble contests and also invited to be a judge for the Illinois Music Educators Association District 3 contest. He works with students of all ages and ability levels. Some of his students continued on and pursued music careers of their own. Lessons with Brett are tailored to meet each students' individual needs and interests.