Brass
Brass Teachers
Whether you're ready to get started with lessons or just want more information, send us a text message using the chat in the bottom-right corner of the site. We'll get you in touch with the right teacher!
---
Trevor Gould, Trumpet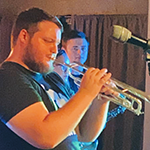 Trevor Gould graduated from Illinois State University with a Master's in both Trumpet Performance and Jazz Performance and currently serves as the auditorium director for the ISU School of Music. While studying, his responsibilities included recording technician, trumpet section leader, wind ensemble section leader, lead trumpet in jazz, graduate brass quintet member, and symphony orchestra trumpet. He served as president of the trumpet club on campus, aided in daily routines of the trumpet studio on campus, and is an active member of the International Trumpet Guild. Trevor continues to gig with a local Funk Band and has attended conferences across the world such as Orvieto Musica, Brass Junkies Brass Talks, Midwest Trumpet Festival, ITG conference, and the National Trumpet Competition.
Throughout his 10 years of teaching, Trevor has developed the following philosophy: "Know your stuff; know who you're stuffing; and stuff em'." Trevor is an expert in his craft and focuses on understanding his students needs to enable their success. A variety of Trevor's students have achieved Arkansas and Illinois All-states, competed at national levels, and continued into their own music careers.
---
Mary Monaghan, French Horn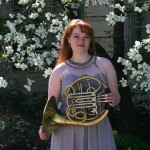 Mary Monaghan is an active performer of many genres of music and has studied the horn for ten years. Along with solo, band, and orchestral playing, she has a passion for playing with various small chamber ensembles, especially those with the use of organ. She attended Oklahoma State University, received a Bachelors of Music in Performance, and graduated Magna Cum Laude in 2019. Currently, she attends Illinois State University where she is pursuing her master's degree in music performance. There, she is the horn studio graduate assistant and is able to follow her love of both playing the horn and teaching it. Her primary teachers have been Lanette Lopez-Compton and Dr. Rachel Hockenberry.
Mary has been teaching horn for five years and has taught all levels, from beginner to college students. Her teaching philosophy includes a love of teaching and helping students develop their musical skills and finding their musical voice. She believes that students should be able to receive teaching tailored to their learning styles and focuses greatly on fitting her teaching to each student's needs.
---
Michael Archer, Trombone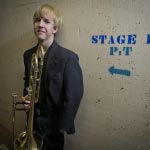 Michael graduated from Bradley University in 2014 with degrees in Music Business and Trombone Performance. Originally from Peoria, Illinois, he has performed throughout the Midwest in various capacities for many years.
Among other things, he regularly plays for professional Broadway tours that come through the Central Illinois area, including Mary Poppins, White Christmas, and Wicked. Michael specializes in performing with symphony orchestras, pit orchestras, concert bands, jazz big bands, and chamber music ensembles.
---